02

03 04 05 15 16 19 20 21 22 23 24 25 26 27 28 31 32 33 34
It's been a little bit since I last posted a full tutorial, so let me amend my ways with this quick project. If you happen to have the supplies on hand (as I did), you can whip this one out in the afternoon and have it ready to wear by evening. Can't beat that.
I purchased these buttons in Iowa about...oh...a decade ago. I know. Pathetic, right? I was totally stoked about using them in some awesome clothing or hand bag design, or something equally fabulous, but I never could find the right project. They always added a strong element of gaudy to every article of clothing I sewed. Sigh...
But I still liked them. I mean, a gold fly with sparkling green diamond eyes? And dragonflies are just cool. But not on my jacket.
Then suddenly this week, 10 or so years after I bought them, I had an "aha" moment. What won't work on my jacket will look great in my hair -- and The Hair Bling Project was born.
What You Need:
Bobby pins - I used large, firm hold bobby pins because I have a lot of hair. The larger, stronger bobby pins were better for the weight of my buttons, too.
Decorative Buttons -- available anywhere buttons are sold (a trip to Iowa is not necessary.)
E6000 glue -- this stuff is awesome. It's worth it's weight in gold -- only don't tell the company I said that, or they might start charging the price of gold and then I'd be bummed. If you want something jewelry-like to really hold, you need this stuff.
Flip your button over and look at the shaft. The kind of shaft you have will determine how you will attach the button to the bobby pin. My dragonflies had a large shaft. It was big enough to slide onto the bobby pin, but not so big that it interfered with it. I chose to leave the shaft on. If the shaft is a problem, raid the tool chest for some wire cutters and cut that puppy off of there. You won't need it.
My gold fly had a tiny shaft. It was too small to thread onto the bobby pin, but also too small to interfere with the placement. I just left it on there. I could have cut it off, though.
Once you determine your placement, put a small amount of E6000 glue on the button and position the bobby pin. Don't put so much glue on that it runs off the edges. Just put enough on there to hold the button in place when it dries. Place upside-down on a paper towel to dry.
Check every so often to make sure that the bobby pin doesn't shift out of place until the glue starts to get tacky. Once the glue is tacky, you should be able to ignore your project until it dries -- I left mine for a few hours. When I checked them again, they were dry.
Now you're ready to stick your new hair bling in your hair and go do something fun -- like the dishes.
That's what I did. Try not to envy me.
Have a great day!
Angela
If you enjoyed this post, please consider following Gallimaufry Grove in the sidebar!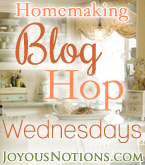 Labels: tutorials

35 36 37 38