02

03 04 05 15 16 19 20 21 22 23 24 25 26 27 28 31 32 33 34
Are you staying warm where you live? Because if you are, it probably means you're running the furnace, which probably means your air is dry. If your house is anything like ours, that also means that you have so much static electricity going on that you can make your hair stand on end and shock people at will. While that's a lot of fun at parties, it gets a little old for every day life.
Our house was getting so bad that something had to be done. First, I invested in a couple humidifiers, which I run around the clock. I told myself they were doing a good job, but I didn't really believe myself. Our hair was still standing on end. So I came up with a recipe to help us out.
This little Herbal Hair Shine Mist works hard. It works to shine the hair, but it also works as a de-tangler, leave-in conditioner, and tames fly-aways. It does all this without a single chemical to give you nightmares. And even though it does way more than your average superhero, it's humble. It doesn't even wear a cape.
I'll bet you'd like to know what this little beauty is made of, wouldn't you? Well, hold on to your hats, cowboys, 'cuz I'm about to tell you.
Every ingredient has a purpose, but there are two major players -- Marshmallow root (no, not the stuff you put in your S'mores), and Horsetail grass.
Marshmallow Root is great in hair products. When you steep it, it releases a gel-like substance. That substance is mucilaginous and slippery, so it works like a natural silicone. It gives the hair shine, helps release tangles and reduces static. Marshmallow root also softens the hair and soothes a dry, itchy scalp. It contains plant proteins that condition the hair and promote hair growth.
Horsetail Grass contains natural silica (again, gel-like when you steep it). It forms collagen and helps strengthen weak, brittle and damaged hair. With regular use, it promotes shine. It's very high mineral content promotes hair growth and works as a natural conditioner. It also helps with dandruff.
The other ingredients:
Apple Cider Vinegar -- balances the pH of the hair and scalp, treats dandruff and can help with hair loss.
Olive Oil -- moisturizes the hair and scalp, coats the hair shaft giving it a smoother appearance and protecting it, tames frizzies and helps with dandruff.
Grapefruit Seed Extract -- natural preservative, anti-fungal, anti-viral, anti-bacterial
Essential Oils -- I chose four that were good for dry hair and dandruff: Rosemary, Lavender, Ylang Ylang and Orange essential oils
And now for the recipe:
Angela's Herbal Hair Shine Mist
1/4 cup Marshmallow Root
4 tsp Horsetail Grass
3 cups filtered water
1 TBSP Apple Cider Vinegar
1 TBSP Olive Oil
3-4 drops Grapefruit Seed Extract
10 drops each Rosemary, Lavender, Ylang Ylang and Orange Essential Oils
How to make it:
Put the Marshmallow Root, Horsetail Grass, and filtered water in a pot. Stir it around a bit and simmer for 20-30 minutes to release the mucilaginous properties. Allow to cool.
Once the herbal mixture has cooled, pour into a cheesecloth or filter bag that has been placed in a jar:
Once it has drained through the cloth, squeeze, squeeze, squeeze, to get all the gel out of the herbs. it will look gross. It will feel even more gross. If you've got kids, it will remind you of the time they had a cold and sneezed all over you. (Don't tell me that has never happened to you.) Just try to think happy thoughts about how great this is going to be for your hair. Or better yet, don't think at all. Just get it over with.
Discard the herbs and add the rest of the ingredients to the jar. Put a lid on it and shake well. Pour it into a spray bottle, label and you're done! Now that wasn't so hard, was it?
Shake well before each use. Spritz your hair when it's tangled, when it's frizzy, when it's got fly-aways, when you need to freshen it up, when your hungry, when your thirsty, when your kids are hungry and thirsty...maybe I'm getting a little carried away...
Have a great day!
Angela
Make sure you never miss a post! Follow Gallimaufry Grove in the sidebar.
This post was shared on the following blog hops: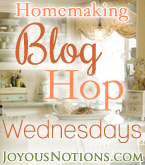 Labels: DIY hair care

35 36 37 38