02

03 04 05 15 16 19 20 21 22 23 24 25 26 27 28 31 32 33 34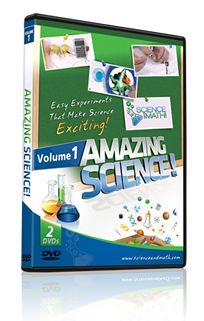 My kids and I have been busy reviewing the Amazing Science, Volume 1 DVD from ScienceandMath.com. This DVD is a great introduction to some of the most fundamental scientific principles that you will need to know if you want to go very far in science. When this review opportunity came up we were all over it, because we really like us some science.

Before I tell you about the Amazing Science DVD, run and get your safety goggles.
I'll wait.
Safety first, kids.
Ahem. Did I mention we are a strange family? And that we really like science? For instance, this DVD is supposed to be for grades 1-3, but did you notice who is in nearly all my pictures? That's right, folks. The teenagers. So if you get this video, watch out for any lurking teens. Consider yourself warned. (For the record, my teens did allow the other kids to play, too. They're nice like that.)


Jason Gibson, your host for the DVD, has advanced degrees in Engineering and Physics and worked for NASA as a rocket scientist. Now he puts together cool science and math materials for the masses. In the Amazing Science, Volume 1 DVD, he demonstrates 23 different experiments. First, Jason tells you what you'll need if you want to do the experiment (and believe me, you will). Then he demonstrates the experiment as he explains the science behind what you see. It is a great introduction that I am sure would engage even those who think they aren't interested in science.



There are a variety of ways you could use this DVD. If you have young kids, you could choose one experiment each week, watch the DVD as an introduction, do the experiment with your kids and then spend the rest of the week exploring the concept. Or you could use this with your current science curriculum by watching the experiments that correspond with what you are studying in your curriculum.
We like to dive right into science, so I planned a "Science Day". I watched the DVD one night while the kiddos were sleeping and picked our Science Day experiments. Then I made sure we had the necessary supplies (most of them are either household items or are easily attainable), set the date and cleared our schedule. When our Science Day arrived, I was ready. I plopped the kids in front of the TV and let them watch the Amazing Science DVD. Although it is geared to grades 1-3, Jason doesn't dumb things down. Even though my teens already knew the science he covered, they still enjoyed it as a refresher course. My elementary aged son and my 3 year old were learning some new ideas. After we watched an experiment, we jumped in and did it for ourselves.
One of our favorite experiments was the Dry Ice Bubbles -- they are so much fun. This wasn't our first time playing with dry ice bubbles, but we pretty much look for any excuse to do them again. It's totally worth the effort to get the materials. There are other great experiments on the DVD, too. My sons are coming up with ways to build and improve on the motor experiments -- they really like building machines. And the Amazing Magnetic Force experiment is just plain cool. I won't give it away though, because half the fun of it is watching your kids go "Whoa!!!" I can think of all kinds of ways to make our friends think we have magical powers with that one. Even our 3 year old was totally impressed with the experiments.
Jason Gibson is very personable and really makes the scientific concepts simple to understand. One thing I have to mention, though. Jason uses a couple words I wish he did not. If your family is sensitive to the words "heck" and "darn", you should be aware that he uses them. He doesn't use them a lot -- maybe 3 or 4 times in the whole DVD (I didn't count), but you may want to prep your kids ahead of time if your family doesn't use those words.
Aside from that one thing, though, I really enjoyed using this DVD with my kids. Jason is enthusiastic about science and he understands it well enough to make it easy for kids to understand. It was nice having him along to explain the science behind the experiments. You don't have to worry about a failed experiment with him right there to guide you along. Easy Peasy. If you're interested in picking up your own copy of
Amazing Science, Volume 1
, you can get it for $17.95 (price at the time of this post) at
ScienceandMath.com
. Get ready to have some fun!
Oh, and one more thing. Jason Gibson is magic. Yup. He truly is. If you watch closely you'll see that he can make safety goggles appear and disappear at will. I've gotta figure out where he learned that. I'm pretty sure it's a necessary skill if you ever want to work for NASA, especially if you want to go on to make educational DVDs. Now I know why NASA didn't ever offer me a job. It was totally because I have to manually take off my safety goggles. Sigh...
Have a great day!
Angela
P.S. If you want to read more reviews on Amazing Science and some other products offered at ScienceandMath.com, click on the graphic below. It will take you to the rest of the Crew Reviews:





Never miss another post! Follow Gallimaufry Grove in the sidebar!




Labels: reviews

35 36 37 38