02

03 04 05 15 16 19 20 21 22 23 24 25 26 27 28 31 32 33 34






My kids and I have had the privilege of reviewing Mango Languages over the last six weeks. Mango Languages is a move-at-your-own-pace online curriculum that teaches people (ages 6-adult) to speak another language. They have programs for schools, libraries, individuals, the government, corporations, etc., but being homeschoolers and all, we test drove a beta version of Mango Languages Homeschool Edition.



With a Mango subscription, you get access to all the languages Mango has to offer. That's over 60 languages, folks. The hardest part may be choosing which language! (They even have "Pirate". Pirate!?!) When you finally choose the language you want to study, you are given a virtual "passport". With your passport, you are sent on a "journey" which is really just a set of goals to accomplish before you move on to the next "journey". The journeys focus on things like sample conversations, vocabulary and pronunciation. The passport to each language includes audio and pronunciation, conversation, grammar goals and tools, a cool voice comparison tool that allows you to match your voice to a native speaker, cultural customs and etiquette, and on-demand phonetic spelling.
These journeys are a well rounded method of instruction that use an immersion technique, but also allow you to get a word for word translation. That's important to my kids. They want to hear the language fluently spoken, but they need that translation. As much as we would like to just infer the meaning, the reality is that we are often left scratching our heads without a translator to help us. Mango gives us the best of both worlds.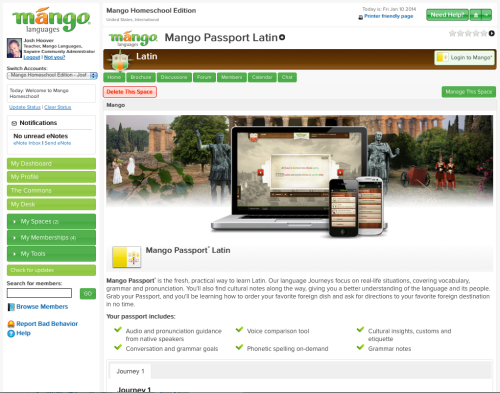 Right from the beginning, Mango has your student hearing and understanding a conversation in their chosen language. First, you see the conversation in English, but as the speaker begins to talk, the sentences switch to the language you are learning. As you progress through the lesson there are helpful tips and cultural tidbits that not only help you learn the language, but also help you understand the people. And isn't communicating with people what learning a second language is all about?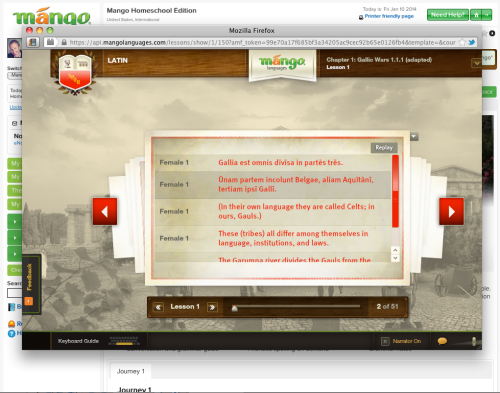 The ability to go back, review, see it in English and match their voices to the native speakers has been wonderful for my kids. I have both my high school students (16 & 14) and my 10 year old going through the program. The 16 & 14 year olds are both using Mango for their Spanish studies. They have really enjoyed using Mango and feel that it is helping them to gain a more solid understanding of the language than they previously had.
Mango breaks each sentence into its parts so you can understand what's going on. It color-codes new words and color-codes Spanish (or whatever language you choose) words to the English translation. You can choose between the literal translation and the understood translation, so you truly understand what's being said. All of that really helps my kids create their own sentences. There is also built in review on what you've learned and the ability to repeat lessons if you like. That makes the teacher in me happy.
My kids really like the voice matching element. The native speaker says a word or phrase and when your student is ready, he/she speaks the same phrase into the microphone (built in to most computers, although we use an external headset for our oldest computer). The voice tracking "shows" the child how closely he/she came to the native speaker. It doesn't count off for mispronunciation, so if you have highly competitive children who feel like failures if they don't speak fluently on the very first try (I wouldn't know anything about that - ahem), they don't have to see a bunch of red marks reminding them of how many times they missed it. They are free to keep trying as many times as they like. It's a nice feature because it saves me from mopping up the tear-puddles caused by multiple melt-downs.
My 10 year old son is mostly using Mango to study Greek, but he has enjoyed having the freedom to look at many languages. Mango doesn't force you to choose and pay for each language you want to study. When you purchase a subscription, you get everything Mango has to offer. May-May (16) has been studying the International Phonetic Alphabet (IPA) on her own time. Being able to listen to multiple different languages (they offer over 60) has really helped her understand what she has learned about IPA. So not only is she getting a better grip on Spanish, she is using Mango to help her better hear and understand the sounds of IPA.
The whole system is challenging enough for my older students who were already working in the language and user-friendly enough for my younger "newbie" student. I didn't have to spend much time teaching my kids how to use the program -- it is all pretty intuitive. Occasionally, we ran into some minor glitches involving things like our profile pages, but they were not things that prevented us from using the program and usually resolved themselves on their own. Mango has told us that they are working very hard to improve the whole experience, so I expect these things are temporary. We were reviewing a beta version, remember.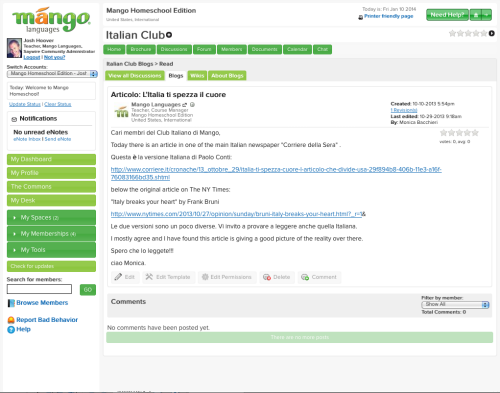 Although we haven't used it much, there is a social media component to the program, as well. You can directly contact the Mango Management if you are having trouble getting something to work. You can send enotes to each other (kind of like an in-house email system. It's great fun for brothers to send silly messages to each other. Ahem.). You can also set up a profile page, join language clubs for some languages and ask questions in a forum. We haven't used the forum yet, but as long as Mango can keep it safe and clean for students, I think it will be a wonderful way to ask questions about the language they are studying. Sometimes my high school students get stuck, and I don't have the answer for them since I speak exactly one language. (Sad, I know. The language I speak is English, just in case you weren't sure.) With the forum, my hope is that the next time my kids don't understand something in Spanish, they can simply ask someone who is further along. Being able to do so would keep them moving forward instead of waiting around until they could ask a Spanish speaking friend. With the Homeschool Edition, Mango is trying to make sure all of the content is very kid-friendly and safe. They are being careful not to include some of the foreign films, etc. from other parts of the site that may have questionable content for children. If you've ever watched a foreign film, you'll know why they are being so careful. It may mean that they are a little slow to add content, but I think they are trying hard to make sure all aspects are kid-safe, including the social media areas. I appreciate that.

As I said before, we have been reviewing a "beta" version of the Mango Languages Homeschool Edition. There are some things still in development that I think will really benefit homeschoolers, but unfortunately, those things were not available for us during the test period. In the coming months, as far as I understand it, Mango will be releasing a new tracking process that will enable teachers to view students work and test results, track progress and create lesson plans. From what I understand, the testing section will not only record how many answers your student missed; it will also show you exactly what they missed. That way you can see where your students need extra work and where they are excelling.

Popular languages (like Spanish or German) seem to be complete, but some of the less studied languages (like Malayalam or Telugu) appear to still be a work in progress. The languages are ready for a new student, but they might not have the quizzes and such yet. The people at Mango Languages are working hard to add content and improve the program all the time. I expect that, in time, all the languages will go as deep as Spanish.



All three of my kids using the program want me to continue subscribing to Mango Languages once our review period is over. To me, that's really saying something. They all learn in different ways, so it isn't often that I find one program that works well for all of them.

Mango Languages is just launching the Homeschool Edition. Their introductory pricing is as follows:

1 subscription is $18/month or $125/year total
2 subscription is $28/month or $175/year total
3 subscription is $38/month or $225/year total
4 subscription is $48/month or $275/year total
5 subscription is $58/month or $325/year total

Anything over 6 subscriptions gets you a special group rate and the price will depend on the number of people in the group. You can contact Mango Languages for more information.

Overall, I have been very impressed with Mango Languages Homeschool Edition. We plan to continue using it and learn more about all it has to offer us. If you are looking for a comprehensive language program, this is definitely one to consider.

Have a great day! Adios!


Angela



P.S. To see what other folks had to say about Mango Languages, click below:




Never miss another post! Follow Gallimaufry Grove in the sidebar!

Labels: reviews

35 36 37 38