02

03 04 05 15 16 19 20 21 22 23 24 25 26 27 28 31 32 33 34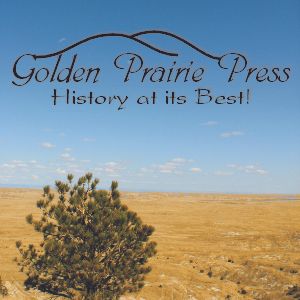 Over the last six weeks, we have been reviewing Digital Heroes & Heroines of the Past: American History Curriculum from Golden Prairie Press. This is a homeschool history curriculum for 1st through 6th graders with a super-simple overview for the younger set and a slightly more in-depth view for the older kids. It offers pronunciation guidelines for names and more difficult words, weekly memory verses, questions, writing topics, and timeline information. There are also simple crafts (mostly paper crafts), skits, some period recipes, and video and audio clips to go along with the lessons. As its name suggests, this is a downloadable curriculum.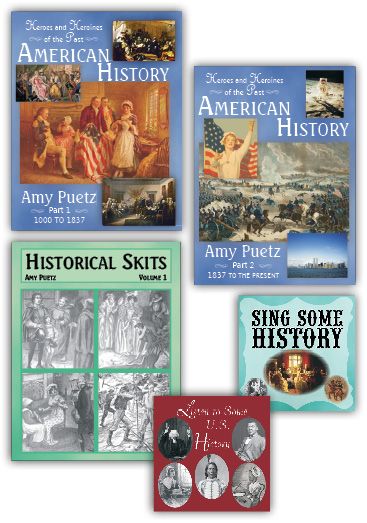 I promised you guys that I would always be honest in my reviews. And so, in all honesty, this was a difficult review for me. I wanted to like this. I really did. The truth, though, is that I expected a lot more from this.

I readily admit that my kids and I are spoiled in the curriculum department. We already use a blend of several very meaty, exciting curricula and a ton of resources. We are used to doing interesting activities, watching professional documentaries, listening to top-of-the-line audio and eating authentic meals from the time period we are studying. We have shelves and shelves of fabulous books, DVDs and CDs to grab our kids' interest. My younger kids are used to tagging along with my high schoolers, doing simpler assignments but utilizing the same great material. Admittedly, it would have been difficult to impress us.

That being said, I felt like I pretty much had to pull this curriculum together. Much of the text seemed sort of like a timeline with a short excerpt on each entry and an occasional interesting short story about historical events or people. The activities were generally easy paper crafts -- not the kinds of things that my kids like to do (Rocket-Boy once built a pyramid out of matchsticks and set it ablaze on our driveway during our study of Egypt, if that tells you anything.) If you are looking for simple, easy-to-do projects for younger kids and don't mind doing your own research to round out the program and connect the dots, you might really like this. We did not receive the optional companion books, so perhaps that would have helped me feel that the curriculum went a little deeper, but I still feel like I was looking for more from a base curriculum.

This curriculum covers early American History through the current presidential administration. We only had six weeks to review this, so I had to narrow things down. We have done a lot of really great early American studies, so I decided we should use this to study something we have spent less time on -- World War II. I felt like I would rely too heavily on my own materials and other curricula to round out the program if I stuck with something we had already done a lot of. By emphasizing World War II, I would be forced to rely more heavily on Golden Prairie Press, thereby giving it a real chance to change my mind.

How We Used Digital Heroes & Heroines of the Past: American History

We started each lesson with the curriculum reading, discussion and research about the day's topic and any of the audio or video assigned in the program. After that, we branched out into "living books" and documentaries about the time period that I found on my own. Then we went back to the curriculum and did (or modified) the activities and assignments. I found myself needing to do a lot of modification to make this fit my family. To be honest, I felt as though I simply used Golden Prairie Press as a spring board for our own studies. It gave us some structure, but we had to do the rest. We rounded out the program and altered or came up with our own companion activities. To be fair, there are some truly interesting stories, educational movie clips and audios that have been pulled from the archives of history. I always like to see/hear real history. There were some period recipes sprinkled throughout the program and some easy crafts -- nothing too hard and nothing that would impress your resident artist, but enough to keep little hands busy while they listen.






If you like timelines, with names and a short synopsis of what happened, this curriculum does that well. My kids and I, however, have a tendency to breeze over the timelines, simply making sure we have a good understanding of what happened when. Then we go deeper. We really like to find a personal connection with the people who made history. I want our history curriculum to make me care about history. While there were some stories that we found interesting, this seemed a little flat, in our opinion. So, I found myself looking to see what was on tap for the day's lesson, then scouring my resources and the internet to find something that would inspire us.

Sometimes, I felt the curriculum not only felt flat; it fell short. For instance, in discussing the end of Woodrow Wilson's tenure as president, we are simply told that he "suffered a stroke while trying to campaign for the League of Nations. His wife and cabinet took over the presidential duties while trying to keep his condition a secret." What? So we have a president who is unable to lead the country, but no worries, the wife and cabinet will just hide it from the country and no one will notice. There has got to be a really fascinating story in there somewhere, but we had to dig elsewhere to find it. In this curriculum, it was stated more like, "The president, wife and cabinet played a nice game of golf." I'm hoping that the optional companion books (which we did not receive or review, since they are not considered necessary to the curriculum) would tell us more.

In studying World War II, I had to keep reminding myself that this was an American History course, so it was supposed to be America-centric in its coverage of the war. I am used to looking at the World Wars from a World History perspective, and this does not. But if you want to know more about the roll the United States played in World War II, this curriculum has some interesting stories along that line, including the nurses who served at Pearl Harbor and a number of other individuals involved in the war. It does not get into any kind of graphic detail about the atrocities of the war, and is therefore suitable for young children, but may not convey the serious magnitude of the war for older students.

Digital Heroes & Heroines of the Past: American History Curriculum from Golden Prairie Press sells for $98.99. I'm quite sure that the other reviewers had an easier time with this than I did. If you are considering this curriculum, please don't just take my word for it. Go check out some of the other reviews by clicking below before you make your decision:



Have a great day!
Angela
Never miss another post! Follow Gallimaufry Grove in the sidebar!

Labels: reviews

35 36 37 38