02

03 04 05 15 16 19 20 21 22 23 24 25 26 27 28 31 32 33 34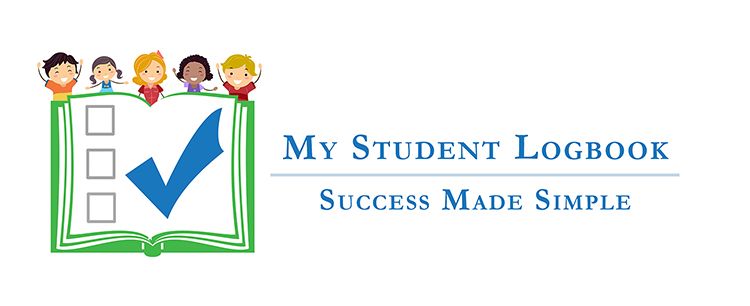 I recently had the opportunity to review a
Vintage Map Student Logbook
(dated) from
My Student Logbook
. My Student Logbook is a homeschool company owned by a homeschool family -- so they understand our unique needs, weird classes and odd hours. They understand that some of us run a traditional school, others are classical, or Charlotte Mason, or unschoolers. And some of us do all the above. They understand that we learn all day long and all week long, including weekends. They understand that the schedule with which we start the year may not be the one with which we end the year. We are flexible, changeable and difficult to fit in a box. Ordinary student planners may not work well for us. But, like us, this planner is different.
For starters, let's take a look at how My Student Logbook arrives. I make a lot of online purchases and get packages all. the. time. Books usually just get shoved into a box and popped into the mail, because, well, they don't have a habit of breaking, so most companies don't take extra care when shipping them. But when I received this student planner, I knew it was different. I knew that this family-owned company put a lot of love into their product from the moment I opened the package. I mean, look at this:
And this:
I felt like I was opening a present -- like they were thinking about me. Wow.
When I finished squealing and making my kids come look at my beautiful package, I pulled out this:
More than just an assignment book, this student planner keeps kids organized. It gives students personal responsibility not only for their work, but also for their time management. With just a glance, students are able to see what they have already completed and what needs to be done next. Instead of waiting for you (the teacher) to tell them what they should be working on, they can just look and see. Simple.
The idea behind My Student Logbook is pure genius. As much as I want my kids to take personal responsibility for their schoolwork and time management, I'm not keen on writing out their assignments every single day so they can learn how (and my kids aren't keen on writing them out, either). My Student Logbook takes care of that. It is super simple to set up. (It took me maybe 5 minutes start to finish). It is spiral bound, so it lays flat and the pages turn easily. (There is a PDF version available as well, if you prefer.)
I chose to use this with my high school son. For each week, there is a check-off sheet labeled Monday through Sunday and dated (if you choose the dated version). On the left-hand side, there is a Check-list flap. You simply write the classes, etc. on this flap. There is also a "Time" block on the flap. You can use this to indicate a time of day for the activity or an amount of time you would like your child to spend on each activity. Or you can mix it up by using a scheduled time for some activities and an amount of time for others. Or you can leave it blank. (See? I told you it was flexible.)
When you lift the Checklist flap, it reveals a place for notes on each of the Checklist activities for that week. For example, if your Checklist says "Biology I", the notes underneath for the week might list the reading assignments, experiments and papers your child needs to complete that week.
And here's the genius part: When the week is over, you just lift the flap, turn the page, replace the flap and you're ready for a new week. You don't have to write all those classes every week. And if your schedule changes because your kid is a whiz and completes Biology I in 6 weeks, you just take a couple minutes to set up a new flap that reflects your new Checklist.
You can watch a video of this planner in action.
When I saw the video, I had a forehead slap moment. Why didn't I think of this 14 years ago?
My Student Planner adapts beautifully to all homeschooling styles. We are an eclectic homeschool family. We have some classes that are somewhat traditional, some classes that are more Charlotte Mason style, some that are delight directed, some that the whole family does together, and some that are independent. It was easy to schedule all of these. Not all of our classes are Monday through Friday. Some are Monday through Wednesday, some are Fridays only, some are Monday, Tuesday and Thursday. Again, it was easy to schedule these. I simply put an x on the days we didn't have certain activities (I used a colored pencil so it would be easy to see even after my son started checking boxes.) On delight directed classes (like robotics and computer programming) and other classes that I don't require a set time, he writes the time spent on the activity in the box instead of a check so I can keep track of his credit hours more easily. I notice that he hasn't filled in those classes for the week above. That's because he puts every spare second he has into those classes. He doesn't think of robotics and computer programming as school, so he didn't remember to log his time. I see that I will need to do a little arm twisting to get those hours logged...
Speaking of logging hours, there is a wonderful section in the book about how to use the logbook to keep high school records, gauge credit hours and generate a legitimate high school transcript. So, not only are you teaching your child time management skills, a good work ethic, and personal responsibility for their education, but you are also getting your child to help out with record keeping. I told you this was great.
As an added bonus, there is plenty of space on the Checklist to add your child's chores, if you so desire. That means the house will be cleaner, the school records will be kept, and your child will be busy working and checking boxes. Did the day just get a little brighter?
In the back of the My Student Logbook, there are pages to keep track of other things. There is a Prayers & Goals page, a Bible Verses Memorized page, pages to record the books you've read, pages for Events, Projects, Field Trips, Presentations & Activities, pages for Test Records and even a Year Highlights pages to record your favorite memories. This is a book your child will use throughout the year, and then it will become both a record of what he has accomplished and a keepsake.
My Student Logbook
would work wonderfully for students in the 2nd grade all the way through high school. In fact, moms could probably use it to make sure all those mundane daily household tasks actually get done. You can see all the different styles to choose from and order your student logbooks at
My Student Logbook
. The logbooks are $15.00 each. I liked it so much I ordered another one for my elementary school son.
You can see more My Student Logbook reviews by clicking the graphic:


Have a great day!






Angela







Never miss another post! Follow Gallimaufry Grove in the sidebar!

Labels: reviews

35 36 37 38