02

03 04 05 15 16 19 20 21 22 23 24 25 26 27 28 31 32 33 34
My kids and I have been thoroughly enjoying
iWitness Biblical Archaeology
,
New Testament iWitness
and
Old Testament iWitness
from
Apologia Educational Ministries
. We have studied Biblical Archaeology and the origins of the Bible before, yet these beautiful and fascinating books grabbed my kids' attention instantly. Every page is a feast for the eyes. Before you know what is happening, your kids are reading scholarly, intellectual material and acting like they are flipping through a picture book. Doug Powell has managed to present difficult material in a way that is utterly engaging. Full of photographs, paintings and interesting facts, these are the kinds of books your kids (and you) won't want to put down.
Old Testament iWitness: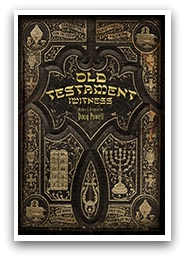 You really need to see these books in person. Truly. The thick, glossy pages are vibrant with color. The text is not only fascinating to read, it is beautiful to see. In
Old Testament iWitness
, Doug Powell takes the reader on a journey that establishes the need for understanding the origins of the Old Testament, as well as how it was written, copied and why we consider the accepted cannon to be the inspired Word of God. The Tanakh (Torah, Nevi'im, and Ketuvi'im) and the Septuagint are all covered, as well as the Apocrypha (and why it is in the Catholic Bible, but not the Protestant Bible). You will read about the Latin Vulgate, the Dead Sea Scrolls and see amazing archaeological finds.
Old Testament iWitness
is a wonderful way to introduce Old Testament Bible history to your kids and gain a deeper understanding of why we hold these scriptures so dear. If you or your kids think Old Testament history is dull, then you haven't seen this book.
New Testament iWitness: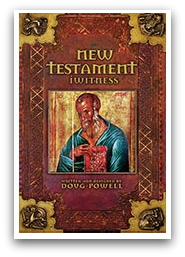 If you or your children have ever wondered why the books in the New Testament are there, how they were chosen and if they are truly accurate,
New Testament iWitness
will answer all these questions and more. Every bit as beautiful as the other books in the iWitness series, this book takes a look at the history of the New Testament cannon. Doug Powell introduces us to early theologians, historians and church fathers. He explains the origins of the New Testament and the heresies that threatened to dilute it's God-given contents.
In
New Testament iWitness
, we gain an understanding of how the New Testament was copied, and why we can trust it's accuracy today. It is incredible to think how the hand of God has been overshadowing the scriptures and protecting them throughout history so that we could open our Bibles in full confidence so many years after the original writings. This book is a wonderful way to take a look into that process.
iWitness Biblical Archaeology: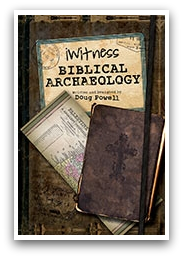 We have a love for archaeology at our house. Old things make us happy (but you already new we were a little odd, didn't you?) I think we all have a little Indian Jones inside us that wants to come out and play. Feasting our eyes on iWitness Biblical Archaeology took us a step closer to appeasing (or perhaps awakening) that adventurer/archaeologist in us. Crammed full of pictures and information about each find, it made us feel that we were walking in the steps of those who actually discovered these treasures.
iWitness Biblical Archaeology
looks like an archaeologist's personal journal as he travels the world discovering and reliving history. Just as an archaeologist on the hunt of the next great find would jot down fascinating facts and notes about the things he has discovered, Doug Powell has presented the facts from each find in a way that begs you to turn the page and continue the hunt. My children and I enjoyed all three books. Choosing a favorite would be difficult, but
iWitness Biblical Archaeology
would probably be it. It both teaches history and fires the imagination -- a true pleasure.
All three iWitness books are a delight to read. Not only are the books a wonderful addition to our homeschool library, they make wonderful coffee table books. Once you pick one up, it is hard to stop reading. If you would like to have your own copies, you can purchase them for $14 each from
Apologia Educational Ministries.
The reading level of these books is about 11 and up, but they could easily be read aloud to younger children -- and don't leave the adults out. They will enjoy the iWitness books, as well.
If I haven't convinced you to check out the iWitness series yet, you can read more reviews by clicking the banner below:

Have a great day!
Angela
Never miss another post! Follow Gallimaufry Grove in the sidebar!

Labels: reviews

35 36 37 38