02

03 04 05 15 16 19 20 21 22 23 24 25 26 27 28 31 32 33 34
My family and I have been reviewing a Christmas story, just in time for the holidays.
If He Had Not Come
was originally written by Nan F. Weeks in 1938. Now it has been updated and reintroduced by
David Nicholson
.
Have you ever taken the time to think about what life might have been like for you if Jesus had never been born? Often, we think about the major impact that Jesus had. I mean, without Him, we would still be living in darkness and sin, and we know it. But what about the "minor" things? What about the way believing in Jesus changes the everyday actions of the people around us? What about how His impact changes our own decisions and actions? How would things be different if there had been no Jesus?
This simple, poignant story explores the impact on one young boy's life when he gets a glimpse into how his life would have been different if Jesus had never been born. Bobby steps into a world that has never been touched by the selfless love of Jesus. He finds that there are many things he took for granted that were actually the result of ordinary people spreading the same kindness that Jesus showed to them. If Jesus had never come, these people would never have been impacted by Him. If they had never been impacted by Him, they would never have impacted others. Bobby finds a very different world than the one he has known.
If you are concerned about the commercial nature that our Christmas celebrations often take, or the entitlement mentality our kids sometimes have about Christmas and Christmas gifts, this book may give your family something to think about. As Bobby explores his world without the impact that Jesus made, he realizes that Christmas isn't about the presents under the tree, but the ultimate Gift of the life of Jesus. As you and your family explore that Jesus-less world with Bobby, you will have the opportunity to re-evaluate the meaning behind the celebration of Christmas. It just might change the way you celebrate.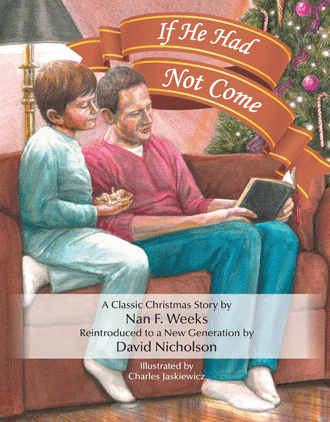 At the end of the book, there are an additional articles designed to get you and your family thinking and talking. These articles are:
Interactive Topics for Families and Sunday School Teachers -- This section has questions to invite open ended discussions and get kids (and their parents) thinking.
Going Deeper by Josh Mulvihill -- This section can be used as a Bible study. There are questions, answers and scriptures to read along with the answers. This might be good for the older kids in your family.
The Gospel Message -- This section shares the salvation message so that everyone who reads this book has an opportunity to become a born again believer in Jesus Christ. If reading this book causes someone you love to desire a relationship with the Lord, this tool will help you share the gospel with them.
An Idea to Help You Celebrate Christmas -- This is a drawing activity with things to ponder as you draw. This might be a good activity for the younger kids.
If He Had Not Come is geared for kids ages 6 and up, and makes a good read aloud by the fire (with hot cocoa, of course). If you are looking for a Christmas story that digs a little deeper than the typical red-nosed reindeer stories, you can pick up a copy of If He Had Not Come at from David Nicholson for $18.95 (or as an E-book for $3.99).
You can check out more reviews by clicking on the link below:

Have a great day!
Angela
Never miss another post! Follow Gallimaufry Grove in the sidebar!

Labels: reviews

35 36 37 38